Who doesn't love some
Sweet Tea
?? Only people in Europe who don't know what sweet tea is I'm thinking (seriously, never order sweet tea in Europe...they bring you hot tea with sugar.)
So, if you are like any southerner, and you like sweet tea, you will also love
Jess at Livin' on Sweet Tea
! (And you don't just have to be southern to love her! Heck, she married a yankee after all!)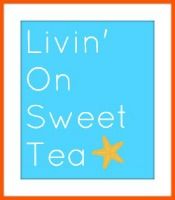 She is having this awesome
giveaway
. RUN,
don't walk,
and register for it!
It is over tonight!
She is giving away either a $25 Target card or a $25 Starbucks card. Holy moly, I want one! If I win, it is just another reason to feed my addiction!
So, check out her blog, sign up for this giveaway, and while you are there read her So What!? Wednesday post. It's hilarious, and all true for me too.