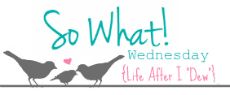 So what if just at a honey bun for my snack..it's my birthday!
So what if I am going to have pre-made margaritas at home with my grandmother on my 23rd birthday night...I have plans for a big birthday weekend!
So what if I spent $125 at a monogram party two days ago...it was for a good cause :)
So what if I didn't shave my legs today!
What are you saying So What to!?